The kitchen is really coming together! Chris has gotten most of the cabinet hardware on, and he's finishing the tile this week. Once that's done, we can put in a kitchen table and move the birds in there.
I bought a cheapo rug from Target, so now there is a sitting area in the living room, but it's pretty much a couch and a coffee table on a rug facing a blank wall.
We went to Ikea Tuesday night and picked out a dining table (which will go behind the sofa in the giant living room) and a sidebar thing for the kitchen. We discussed kitchen tables. I want a round pedestal style, but one with a light wood top. Ikea has this:
But the top is yucky fiberboard. We could cover it with butcher block countertop if we can find it cheap, but then that puts the price higher than I'd like.
I'd be ok with something like this: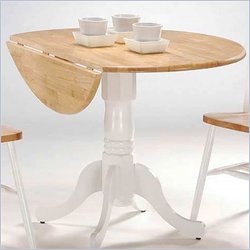 Minus the chairs, but the base might be a little too country for Chris. It's not so bad without the chairs, promise. Here's Target's all-light colored version:
For the dining room, I like this Ikea one in brown-black stain. It's solid pine, has 1 or 2 extra leafs (depending on the size we get), and so could expand later. I think I need to tape out the dimensions on the floor before buying, but I think the larger one fits the scale of the room better than the smaller one. We'll see.
So we just need to order a real rug for the living room, buy new slipcovers for my Ikea sofa, get a rug or something for under the dining table, maybe, maybe not, and buy the dining table and chairs (still don't know what to do about those - check Craigslist probably). Then we'll get the fake fireplace (gel fuel cans), which will have a mantel for photos and Christmas stockings and whatnot, and we can mount the TV (which Chris doesn't have yet either) above the fireplace. And then maybe it'll look like a real living room. Oh and curtains. And move the coffee table from Goodwill that I refinished. Ok so there is still a lot of work to be done...